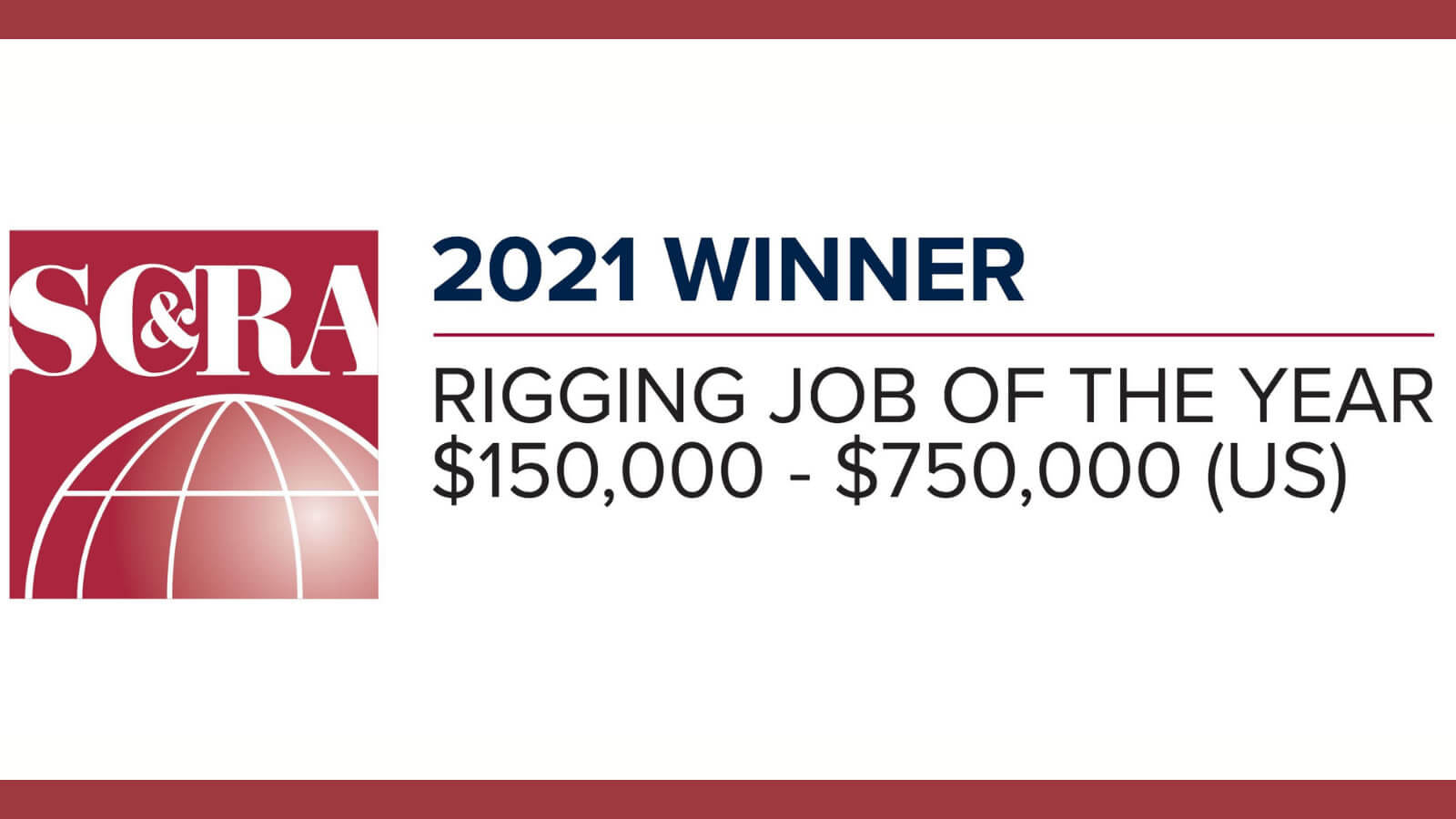 A&A Machinery Moving, an MEI Company, Receives Rigging Job of the Year Award From Industry Group
November 16th, 2021
A&A Machinery Moving, An MEI Company, received the 2021 Rigging Job of the Year Award from the Specialized Carriers & Rigging Association. SC&RA is an international organization comprised of more than 1,400 members from 46 nations.
The SC&RA Rigging Job of the Year Award focuses on ingenuity and adherence to standards, with an emphasis on safety, innovation, engineering, and consideration of limitations. A&A won in the rigging category for projects between $150,000-$750,000.
This award recognized the relocation of a historic 7,000-ton capacity bending press from a former Bethlehem Steel property to the National Museum of Industrial History. Cast and constructed on-site in 1891, the press was no longer able to be disassembled. A&A devised a unique plan which included wire-sawing the press in critical locations enabling the 400,000-pound press crown assembly and remaining 286,000 pounds of components to be relocated and reassembled on the museum site. The press is now preserved as a nationally significant historic industrial artifact instrumental in helping build our military by bending armor plates through both World Wars.
Firms across the United States and around the world submit dozens of entries to the SC&RA Awards competition each year. The Awards program recognizes worldwide excellence in the crane, rigging and specialized transportation industry.
"It is an honor to be recognized at an international level by SC&RA," states Dan Cappello, CEO of MEI. "This award is a testament to the A&A team's ingenuity, capability, and unwavering commitment to providing outstanding service to our customers. We are extremely proud of our Philadelphia regional team – well done!"
This project also received the Excellence in Construction Award from the ABC Eastern Pennsylvania Chapter. As a result, this project is eligible to proceed to ABC's National Excellence in Construction Award competition.
About A&A Machinery Moving, An MEI Company
A&A Machinery Moving is an MEI Rigging & Crating company. A&A is a full-service machinery moving and industrial rigging contractor providing services ranging from turn-key installations of single machines through installations or relocations of entire plants. MEI Rigging & Crating, a portfolio company of Dorilton Capital, is one of the largest providers of rigging, machinery moving, millwrighting, mechanical installation, industrial storage, crating and export packaging services in the nation. MEI has over 600 employees in 11 operating locations across 8 states – Arizona, California, Georgia, Nevada, Oregon, Pennsylvania, Texas and Utah. For more information, visit MEI's website www.meiriggingcrating.com or A&A's website www.aamachinery.com.
About SC&RA
The Specialized Carriers & Rigging Association (SC&RA) is an international trade association of more than 1,400 members from 46 nations. Our members are involved in specialized transportation, crane and rigging operations, machinery moving and erecting, industrial maintenance, millwrighting, manufacturing, concrete pumping, and rental services. SC&RA helps members run more efficient and safer businesses by monitoring and affecting pending legislation and regulatory policies at the state and national levels and researching and reporting on safety concerns and best business practices. For more information visit scranet.org.